Thursday, March 7th, 2013
First and foremost, this blog is going to be getting some love in the coming weeks. Namely, adding a gallery of sketchwork and finishes, so that I can share fun WIP things like this…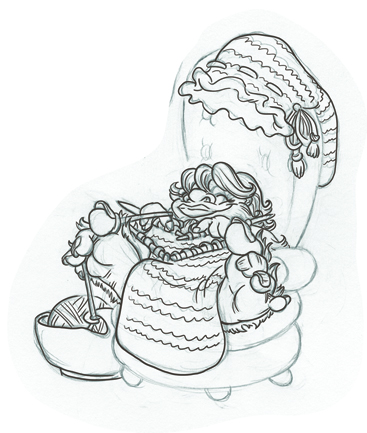 I'll be finishing the design of this drawing with a full background and then applying different methods to flesh it out and see what I'm most comfortable with and like most in order to create a finished piece. The finished piece will go into the gallery of finishes and, if its lucky enough, into the digital portfolio! Ooooh! Aaaah!
Other features will include book reviews, be they picture book, books about illustration or illustrators (I'm currently reading Show Me A Story, Why Picture Books Matter, Conversations With 21 Of The World's Most Celebrated Illustrators, a mouthful of a title by Leonard S. Marcus), or the latest novel that makes me go WOW! Which would be Tony DiTerlizzi's A Hero For WondLa right now. Over-The-Hump Day will be a Wednesday post of an unpredictable nature, but something to coax a smile and remind you that the weekend is coming!
And there's a super-secret project coming, too.
I have some other wild ideas, but I won't delve into those just yet. Not till I work them out.
So, that's what's going on right now. Check back here or follow me on Twitter (@suerankinsays) to get notification when there's an update!