Tuesday, April 30th, 2013
Just like that, my trip to the NE SCBWI Spring Conference is a No Go. A situation has popped up that will require a doctor and a knife and being grateful for good medical insurance. I am one of the lucky ones.
I'm disappointed. I was really looking forward to the conference. Thankfully, arrangements are being worked out so that I can still take advantage of a few opportunities I would have had, if I were there. I wish I were going to be there, but things are a bit uncertain right now. Best to be on familiar territory in the event of an emergency, catching a cold right now would be a Bad Idea, and who knows when this or that doctor can see me and make time for me to be on the slab.
Anyway, I'm not going to gripe about it. I've been through much worse. Worse with worse timing, none the less!
So where do I go from here? Because there is no stop. Not this time. There may be slow, actually… I know there will be some slow, but I don't think there will be a stop. For instance, today I am just too wound up about seeing the doc tomorrow for a follow-up to talk about surgeons. I needed busywork.
I gathered a ton of reference photos of bears. I'm not sure why I'm so interested in bears lately, but I am.
I scrubbed the bathtub. It needed it. I don't know what's in the San Jose water and I'm not sure I want to know. I probably should, though.
Some bills got taken care of.
And then, I scanned, trimmed up, and submitted 2 black and white spot illustrations to the SCBWI Bulletin. Here's one.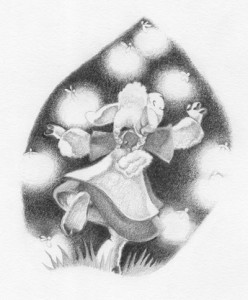 They're new pieces that were to debut in my portfolio this weekend. This is my attempt to turn lemons into lemonade, y'see. I've been thinking for a few months that I really need to make and submit some spot illustrations, but just hadn't gotten around to it or had what I considered a good idea. If they pick one for the next issue, I know which one it won't be. After sending them in, I noticed that the current issue was available to download, so I did. And found a pig in a polkadot dress in the back. Well, then! Maybe I'll resubmit it next year.
My point is, keep going.
There are setbacks. There are rejections. There always will be.
Sometimes they are monkeys with wrenches.
It's nothing personal.
Don't let them mess with your brakes.
And when all else fails, go out into the summer evening and dance with the fireflies.
Tags: best laid plans, conferences, illustration