Monday, September 30th, 2013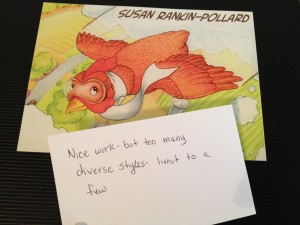 Pretty much the kind of comment I expected. It's good to know that the work is nice, better than "You suck! Take up accounting!" It's the "too many diverse styles" I knew would be coming. "Limit to a few,"… Which few, which few.. Hmm… I sure wish they'd given some indication as to who they were. I'd send a thank you note. And it'd be nice to know if this came from a fellow artist and/or illustration teacher, or an agent, or an art director. Looks like a woman's handwriting, though.
Some other good advice I heard at Illustrators' Day…
1 and 2 – "Interpret your reference with fun," "Give yourself a 15-20 minute daily assignment, like a watercolor painting observing something changeable." -Melissa Sweet
3 – From the First Look panel, not on my work. I didn't submit anything.
a. Keep the sketchy energy.
b. Find the between /nuance expressions.
c. Beware of clutter that confuses the focal point.
d. Beware of physical characteristics being exaggerated to distraction.
e. Hidden places are fun!
f. Create fun Bad Guys!
g. Everything in the image should be useful.
4 – In regards to portfolios: "Show your obsessiveness in your illustration." Up until now, I'd always heard, "Draw what you like, because if you draw what you don't like, you'll get stuck drawing it," and that's true. But putting the word "obsession" into that mix gives it new depth of meaning. Don't just draw what you like, show the things that REALLY make your work shine. This will translate to playfulness and a being in love with what you do. For me, that's details like personal artifacts, but they should all serve a purpose within the context of the piece, rather than simply be decoration. I have to really consider what else I consider to be my (healthy!) obsessions.
5 – "Make any changes of style relative. Don't jar; flow." Looking at the order I put things in, yeah, I did some jarring. In my attempt to showcase the four different types of execution (colored pencil, watercolor, digital, and graphite) I had focused on linking adjacent pieces, but in doing so I had created a seesaw effect in the way I had arranged things. Doing more work will give me more to choose from in the future to create better flow. I think I might also label different sections, so that picture book work is separate from early reader and middle grade novel work.
Now the After Work begins. Next up is the Fall Conference in Oakland. There is much work to do. I have some new reading material for subject matter! But I need to take it easy today. My eye is STILL twitching. But I'm so excited and I wanna worrrrrk! Bah!